[2008-07-15] In case of zombies break glass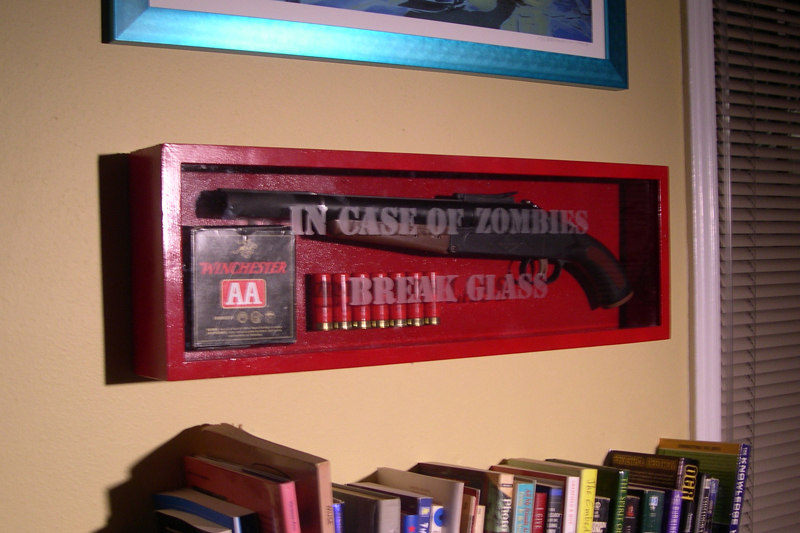 This gimmick is not my idea. As I understand, these "zombie boxes" first started appearing on the web as part of a promotional campaign for the decidedly awesome Xbox 360 game Dead Rising. One of my early works, Cruci-fix, played with the semiotics of emergency fire boxes, and I was too much the zombie fan to resist this variation. It's made from a cheap Airsoft shotgun with the orange forebarrel spray-painted over in matte black, an empty box of Winchester 12-gauge shotgun shells, and 7 loose dummy shells. These were assembled in a 25x8x4" shadow box frame from Hobby Lobby, which was first diassembled, basecoated with several coats of white primer and wood putty to close the grain, and then spraypainted with "safety red" Rust-O-Leum. The glass was removed and etched with a hand-cut stencil made by printing the words at actual size on large mailing labels, adhering them to the glass in their proper positions, and then cutting out and carefully peeling off the letters. Glass etching cream was then applied per the label directions, and the stencils peeled away. The box was reassembled and its contents installed using hot melt PVA glue.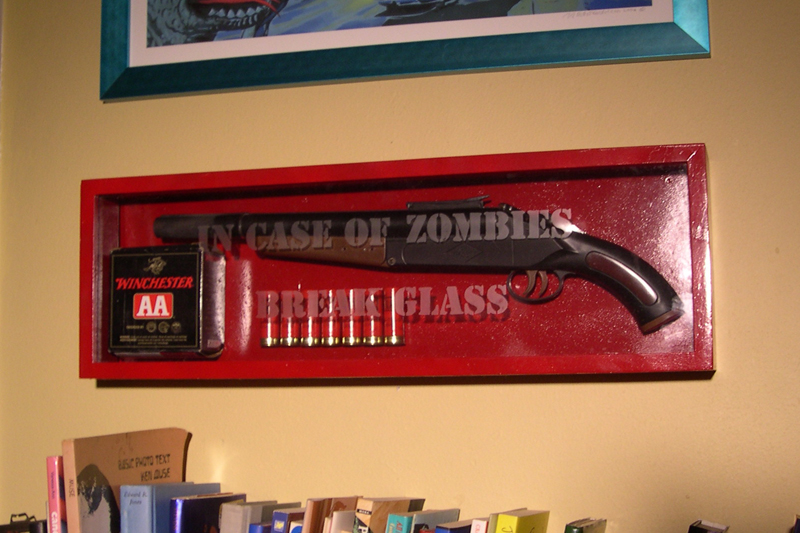 Update: The prototype sold in 2010 for the asking price of US $150. I am compiling a list of interested parties for a production run. If you'd like to have your name added to this list, please e-mail me. Thanks for your interest.
last modified 2011-05-26