[2009-07-22] Duffman Halloween costume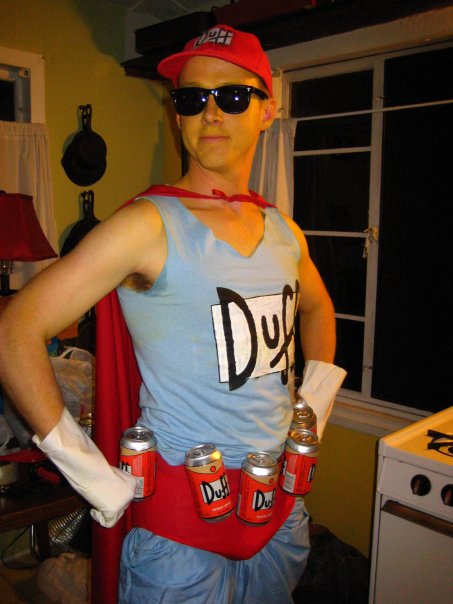 Finally getting around to posting my Halloween costume of last year, which won best costume at this great big costume party we went to at my friend Lori's house. The prize was a mug with boobs! Winning it continues to be the greatest thing that has ever happened to me, in my life. I went with three close friends as a group of Simpson's characters. Aaron was Homer, Abby was Marge (carrying a bag-of-rice Maggie), and Thomas was Bart. Abby took the pictures.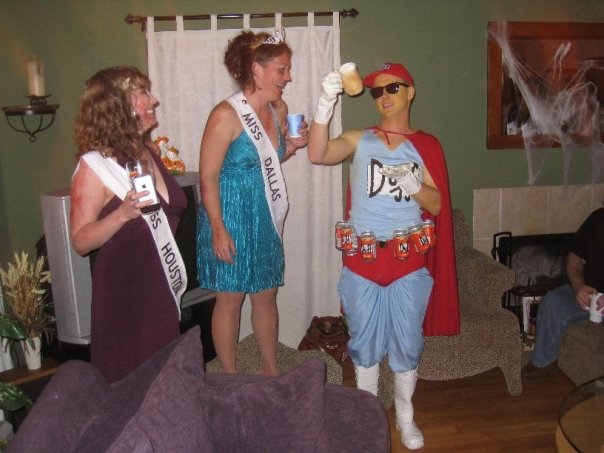 The costume was fun to make. I even bleached my hair. The boots are black waders wrapped 'round with white duct tape. They got pretty icky inside by the time the night was through. Especially since I had to lubricate my feet to get into them. :P The pants are polyester nightmares from Goodwill. The undies went on over the pants (and over my athletic supporter); I got them from Austin's Lucy in Disguise on South Congress, which is also where the yellow face paint came from. The shirt was a blank blue tee from Hobby Lobby. I cut the sleeves off and applied an inkjet iron-on transfer of the Duff logo, which I then outlined, white and black, with so-called "puff" paint. Ditto the cap: New from Hobby Lobby, printed out a transfer, and ironed it on. Didn't stick very well, so I hit it with a dab or two of super glue. Some Wayfarers and a pair of white dishwashing gloves complete the ensemble. Er, almost!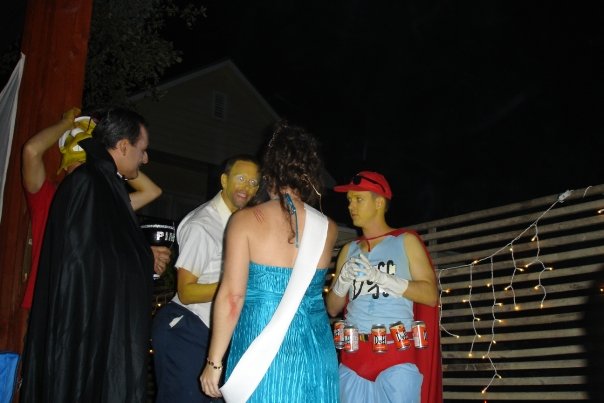 The belt is the coolest part. It's made from six cans of "Duff" energy drink that I ordered online, which is manufactured to look like Duff beer until you actually get up close and read the label. I drained the (horrible) beverage from the bottom of each can by poking two holes with a nail. This kept the belt lightweight without sacrificing the new appearance of the pop-tops. I did my best to wash the cans out through the holes with water, then baked them dry in my oven before screwing them to a red web belt I also got at Lucy in Disguise.
Update: The costume has been sold. Thanks, everyone, for your interest and inquiries.
last modified 2011-05-26